Stiebel Eltron DHC Model Electric Tankless Water Heater offers hot water when you need it and ultra reliable performance.
 Up to 50% less power consumption compared to storage type heaters - 

 Hot water instantly

 Hydraulically controlled for quiet operation

 Resettable safety high limit switch

 Lower installation costs compared to tank type units

 Exclusive copper-clad heating element

 Never dry fires and fails prematurely

 Superior reliability

 Available in many different kW sizes

 Available for 120 V, 208 V, 240 V, and 277 V
The heating element is controlled by a flow switch which means a DHC can never dry-fire and fail prematurely. And since all DHCs are hydraulically controlled, operation is quiet. DHC water heaters are equipped with a safety high-limit with manual reset. The rugged all copper design ensures many years of reliable service.
Easy to Size for Point-of-Use Applications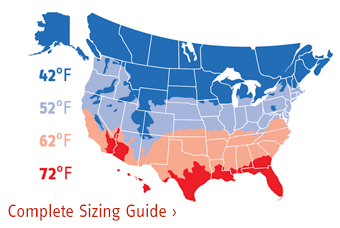 DHC can deliver warm or hot water to a single point-of-use, usually a hand wash or utility sink. Click the map for the full Sizing Guide.
Stiebel Eltron DHC Model Electric Tankless Water Heater User Manual
Stiebel Eltron DHC Model Electric Tankless Water Heater Warranty
Stiebel Eltron DHC Model Electric Tankless Water Heater Install